"Puberty is the process of physical change through which a child's body matures into an adult body capable of sexual reproduction. It is initiated by hormonal signals from the brain to the gonads." - Wikipedia
In the summer of 1990, I went to see the Touchstone Pictures film Dick Tracy (dir. Warren Beatty) five times in the cinema. I bought an anthology of the 1930's Dick Tracy comics by Chester Gould, which I read cover to cover. I learned to draw Dick's square jaw, as well as the distinctive mugs of villains like Flat Top and Pruneface and featured them in a home-made board game, heavily indebted to Monopoly, that I created and roped everyone I knew into playing.
It was perhaps no surprise that an eleven year-old only child who loved drawing and reading would become obsessed with this cartoon-coloured summer movie. But I came out of this encounter fundamentally changed in a way that many other proto-gay boys of my generation may relate to: we were drawn into the Dick Tracy universe by its association with Disney and ended up in bed with Madonna.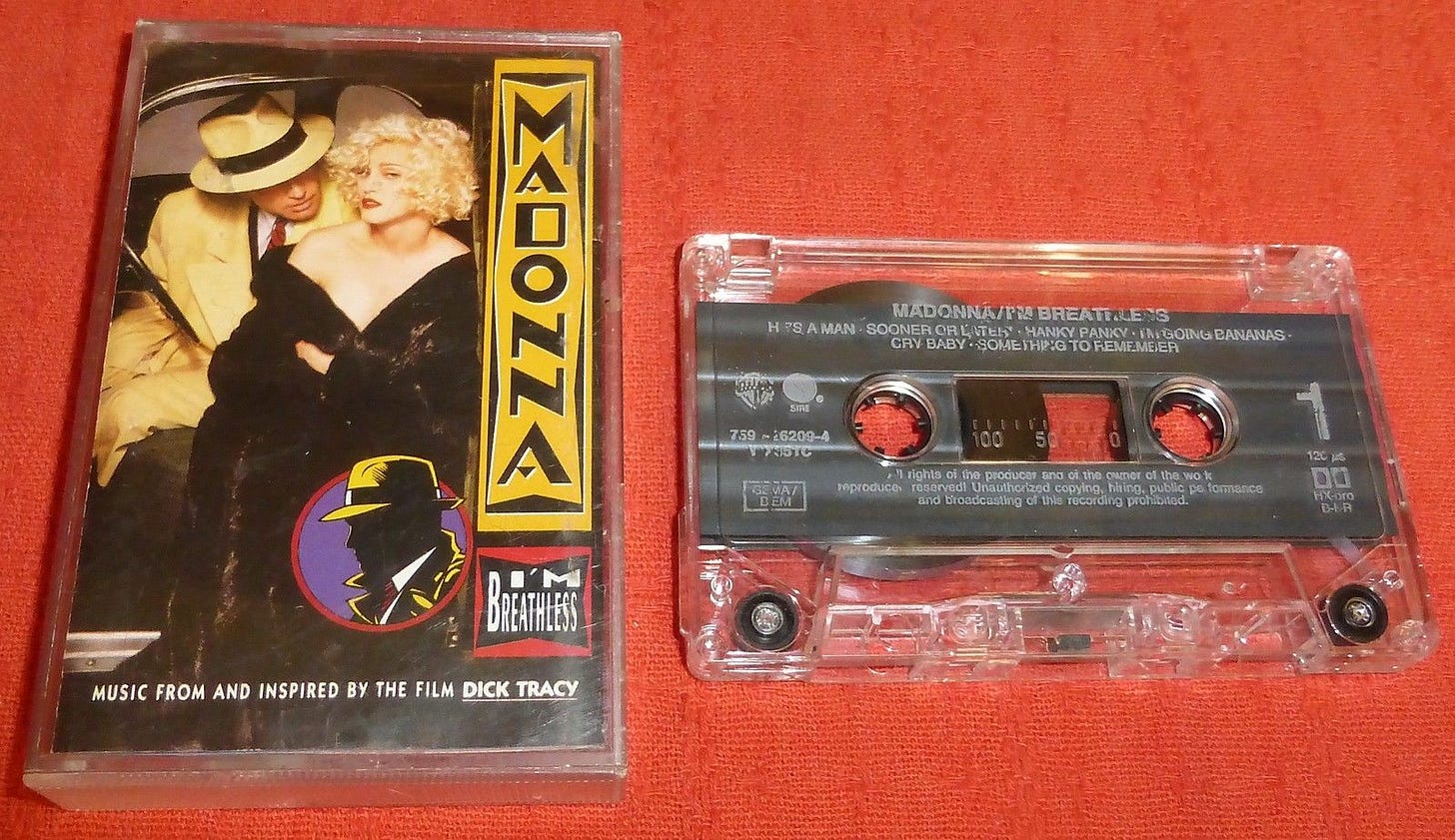 The controversial singer-actress plays femme fatale Breathless Mahoney in the film and I barely knew who she was. Even more than her performance, though, the catalyst of my transformation was Madonna's album of music "from and inspired by" the film. Listened to on endless repeat, that cassette sent signals to my gonads (and other organs) that I sort of enjoyed, sort of resisted, and definitely did not understand.
Within a discography that has always courted LGBT audiences, this odd album is unquestionably Madonna's gayest. Yes, we all know its hit single, but I'm Breathless is much more than just the album that gave us 'Vogue.' Embedded in its mélange of sex-positive provocation and Classic Hollywood pastiche was the DNA of almost everything I would become in the years ahead.
I'm Breathless kickstarted my puberty.
Consider these as liner notes to a late 20th century gay's sexo-cultural awakening.
---
1. 'He's a Man'
The first thing to understand is that I'm Breathless didn't need to exist. In the best Wildean sense, it is an utterly superfluous object.
In fact, Warren Beatty and Disney released two other, more traditional albums of Dick Tracy music: one with Danny Elfman's orchestral score and another featuring period songs written for the film and performed by pop artists of the time like k.d. lang, Take Six and Ice-T. No one remembers these.
Madonna was not making a standard 'soundtrack album' but a queer work the very existence of which served as a subversive riposte to the film that spawned it and also to its classically masculine creator/star who happened to be romancing Madonna at the time.
It's fitting that the opening track links us back to the movie, with Madonna singing in-role as the seductive bombshell who lures Beatty/Dick away from his do-gooding:
All work and no play,
Makes Dick a dull dull boy, career gets in the way.
Square jaw, ooo, such a handsome face,
Why do you have to save the human race?
Full of dirty double entendres, Madonna is enacting a Nietzschean inversion of all the accepted values of this Disney enterprise: heroism is stolid and boring, vice and pleasure are appealing. Not for the last time on this album, she challenges phallocentrism, cheekily disarming her man and turning him into an object of feminine desire: "I can show you some fun / And I don't mean with a gun."
In the film, Breathless ultimately dies and Dick's relationship with the demure, domesticated Tess Trueheart is restored. Here in the queer space of I'm Breathless, we're told from the start, straight-arrow masculinity is about to get bent.
2. 'Sooner or Later'
Enter Sondheim.
At eleven years old, show tunes to me still meant The Sound of Music. But with the second track on this cassette I was introduced to Broadway's poet of verbal dexterity and emotional ambiguity, a relationship that would progress at warp speed. Within a few years, I would have all of his shows on CD, could recite every single lyric and I was a paid-up subscriber to The Sondheim Review. Yes, that was an actual publication.
Being a theatre kid, I would certainly have encountered Steve sooner or later. To meet him simultaneously with Madonna, however, was a curious coincidence of history. It's hard to think of a less likely pair, given her famously limited vocal chops and his penchant for melodic difficulty. But as was famously said about Fred Astaire and Ginger Rogers, "He gave her class and she gave him sex appeal." And an Oscar.
'Sooner or Later' is a torch song, a paean to the ineluctable power of sexual desire:
But if you insist, babe, the challenge delights me
The more you resist, babe, the more it excites me
And no one I've kissed, babe, ever fights me
Again
Inevitably, Breathless and Sondheim tell us, you will succumb to the longings that you're currently fighting. That's a scary message for a barely adolescent boy who doesn't yet understand what he's attracted to. But Sondheim coats the come-on in intricate irony. Eleven-year old me could enjoy the clever rhymes and esoteric vocabulary ("When I get a yen, / Then, baby, Amen. / I'm counting to ten") and side-step any contemplation of exactly what kind of consummation she was hinting at.
As Jessica Rabbit had done for me a few years before, Madonna as Dietrich as Breathless exhibited such a heightened feminine allure that it became a master class in camp. This was nowhere more apparent than in her incredibly ballsy performance of the song on the Academy Awards in 1991:
Even more than in the film itself, Madonna is giving a full-on drag performance here: Look at the way she swings that stole! Or her absurdly ad-libbed seduction of Gulf War military brass ("Talk to me, General Schwartzkopf, tell me all about it!!")? This is a performer in total command of her sexual personae. With Sondheim's assistance, she tells the audience in the Dorothy Chandler Pavilion that identity is mutable, that role play can be simultaneously seductive and somewhat ridiculous. What little boy watching at home wouldn't want to dress up and join her?
3. 'Hanky Panky'
We all remember 'Dita', Madonna's dominatrix alter ego who appeared a few years later on the Erotica album and accompanying art-book Sex.
That foray into full-on sadism provoked conservative condemnation, but I will always have a fondness for this gentle, fun introduction to Madonna's kinky side, performed with a much more knowing wink and a Big Band swing. It's a perfect taster of non-normative sexual taste, like S&M with training wheels.
The song's premise is direct and unambiguous: "Some girls they like candy, / Others, they like to grind, / I'll settle for the back of your hand somewhere on my behind."
According to Madonna/Breathless, there's "nothing like a good spanky." Using childlike language rather than coy coded terminology made the song's effect all the more disorienting. I knew something 'dirty' was being described, but it sounded like a really good time. "My bottom hurts just thinking about it."
I never sang along to 'Hanky Panky,' and was actually embarrassed when it came on in the car. You see, that car was usually being driven by my aunt, a loving woman who raised me but who was also a former Franciscan nun. Content deemed too adult was gently disallowed, yet this song escaped censorship, just as I was also miraculously permitted to follow the bedroom exploits of Blanche, Dorothy and Rose on The Golden Girls. Like them, Madonna in her Breathless mode was horny, sex-positive and unapologetically feminist.
"Please don't call the doctor," Madonna tells us. "There's nothing wrong with me." It would take years consuming queer theory for me to appreciate these lessons that I first received at age eleven: sexual talk need not be shameful and fetish can be fun.
4. & 5. 'I'm Going Bananas' & 'Cry Baby'
Who doesn't love a novelty song?
In the first of these numbers, Madonna does a neurotic Carmen Miranda impersonation and the second has her and her chorus girls adopting whiny baby voices.
We forget that the Queen of Pop sometimes exhibits the instincts of a Borscht Belt comedian, even if the jokes aren't always successful. These esoteric oddities certainly demonstrate her penchant for chutzpah. In fact, the lyric "I'm going meshuggah" was the first time I consciously remember learning Yiddish… as sung by an Italian-American doing a wacky Latin pastiche.
These songs are playtime. As an only child, I frequently sat by myself making up stories and adopting funny voices. Madonna, another motherless child, doing the same on a best-selling album only increased my sense of identification.
6. 'Something to Remember'
Ironically, considering the title, this is probably the track I most forget.
It's a serviceable, if somewhat down-beat, ballad that has Madonna looking back not exactly fondly on a recently ended relationship: "I was not your woman, I was not your friend / But you gave me, something to remember." Perhaps it's an unsentimental take on her short-lived affair with Beatty (the video features clips of them from the film).
It's worth noting that a retrospective theme runs through many of Madonna's ballads ('I'll Remember', 'This Used to Be My Playground', 'Love Don't Live Here Anymore'). In 1995, during a career crisis that followed much controversy and bad publicity, Madonna released a well-received but unexciting compilation album featuring all of those tracks under the catch-all title Something to Remember.
Fine as some of those songs are, we don't remember Madonna for this type of music. There is an alternative universe in which, post-scandals, she settled comfortably into being a mother and an easy listening artist. Instead, after a few fallow years, we got Ray of Light and a seemingly infinite number of Re-Inventions. As I go further into my forties, I'd be happy to have that many transformations left in me.
7. 'Back in Business'
Following that rueful interlude, this fun track registers as a striking jolt back to the Madonna we love.
[Oddly, there's a Sondheim song with the exact same title that appears briefly in the movie, but not on this album. It's a catchy show tune, definitively performed by my other favorite living vocalist: Liza Minnelli.]
Madonna's 'Back in Business,' written with frequent collaborator Patrick Leonard, reads as a middle finger to her censors in the Church and the media:
Just 'cause you got a halo don't mean that you can fly.
If you thought it was over, you're way off track
You made a blunder, and

You put me back, back in business,
This ain't no hit or miss, I'm gonna get my way.
'Cause you put me back, back in business,
You're my first witness, and I'm here to stay.
The 80s and 90s were a time of virulent conservatism, anti-feminism and homophobia. Queers of my generation were shaped by that climate and Madonna was one of the lone mainstream voices pushing back against it, confidently and consistently.
8. 'More'
Let's be honest, the second Sondheim track on this album isn't really a Madonna song but a full-on, show-off show tune with intricate, dazzling rhymes. Enumerating a hunger for excess, this is his riff on 'Material Girl', complete with winking homage to the Gershwins: "'Who could ask for anything more?', I hear you query. / Who could ask for anything more? Well, let me tell you, dearie…"
The nerd in me learned every lyric religiously and can repeat most of them today, in much the same way that I can still recite the Nicene Creed.
Committing complex patter songs to memory was one of my favorite pastimes. I would also learn all the words to other Sondheim tongue-twisters like 'Not Getting Married Today' and 'A Weekend in the Country.'
What was I trying to prove? It's easy to chalk it up to Best Boy syndrome, overcompensating for my difference by demonstrating intellectual accomplishments.
It was easier - and safer - to adopt Sondheim's prodigious verbosity as protection than to fully embrace Madonna's unabashed espousal of emotional and sexual freedom.
9. 'What Can You Lose?' (feat. Mandy Patinkin)
This song sums it all up. Listen to it.
I'm sure Mandy Patinkin never expected to be on a Madonna album. In Dick Tracy, he takes on the small role of 88 Keys, the piano player who pines for Breathless and delivers with her this devastating duet of unfulfilled desire.
If Madonna represented the id that I didn't know I needed to release, Mandy/Sondheim was the asexual avatar I ardently adopted throughout my adolescence. Patinkin and I shared a similar high tenor voice and in high school I loved to sing his solos from Sunday In the Park with George, playing the punctilious pointillist who chooses obsessive pursuit of his art over messy human connection.
'What Can You Lose?' mainlines all of Sondheim's classic themes: longing, emotional ambiguity, hesitation. Think of it as a not-coming-out song written by a man who wouldn't publicly acknowledge his same-sex desires until age 68:
Why keep concealing everything you're feeling?
Say it to her, what can you lose?
Maybe it shows
She's had clues, which she chose to ignore
Maybe though she knows
And just wants to go on as before
As a friend, nothing more
Unlike the better-known 'Being Alive' from Company, here we end not with a breakthrough but in sustained tension ("Leave it alone / Hold it all in"). Having weighed the pros and cons of disclosure, the singer decides "there's too much to lose."
The time was not right.
10. & 11. 'Now I'm Following You, Parts I & II' (feat. Warren Beatty)
This cute little diptych brings the Dick Tracy narrative to a close, before offering us the world-conquering single that would surpass the rest of the album in cultural impact. It also marks a kind of eclipse in fame from one cultural moment to another.
In the first run-through, Beatty sings alongside Madonna in a voice that's even thinner than hers. Dominant in Hollywood for decades, his particularly brand of masculine stardom was just entering its decline in 1990, as Madonna herself cannily suggested: "I know I have a much bigger following than Warren does, and a lot of my audience isn't even aware of who he is."
Playing on the theme of who leads and who follows, the lyrics depict an affectionate but transactional relationship between two canny partners who know they each have something to offer the other.
Part II puts Beatty and his persona through a Madonna blender, remixing the vocal and returning obsessively to the name "Dick, Dick, D-d-d-d-d-d-dick." What might seem juvenile is elevated to an incredibly bold statement, though, in the track's Blonde Ambition tour performance:
Beginning as a rudimentary two-step with a hunk dressed in Tracy's iconic yellow trench, the stage is flooded with a phalanx of similarly-clad Dicks doing a kick-line and then flashing those coats to reveal skin-tight black briefs. Soon Madonna's audience is greeted with the sight of sexually fluid dancers of color coupling up in a same-sex partner dance.
If you hadn't seen that a new world was coming, here it was, hitting you smack in the face.
12. 'Vogue'
What more can be said?
It's an iconic anthem and at the same time a blatant act of appropriation. I can leave that discussion to others.
Undeniably, it's cultural reach is nearly unparalleled. Many, many more people have sung and danced to 'Vogue' over the decades than have listened to any of the other songs on I'm Breathless. I was the other way round: many times in 1990 I stopped the cassette before the final track and flipped it around to the other side.
What was I not prepared for?
Those who complain that 'Vogue' feels appended onto the album aren't exactly wrong. Its evocation of 1940's glamour is the tenuous thread that binds it to Dick Tracy but other than that… Beatty's comic flick was not a place where it made no difference if you were a boy or a girl. Nor was anywhere I'd ever been.
'Vogue' told me that a Gay World is Out There, somewhere beyond the suburban, Catholic reality I'd known. The song beckons us to a place where we can "get away" from the "pain of life" that we know. Even at age eleven, I sensed it was more complicated. Images of gays in hospital beds had flashed before my eyes on the nightly news, unspoken associations of sex, risk and death created a climate of fear.
Of course I couldn't understand what queer community meant, I hadn't ever seen one. I'm Breathless (along with Truth or Dare and Blonde Ambition) offered me and many others a partial, and not uncomplicated, glimpse of what such a space might feel like. These works kicked off a process of de-programming, but certainly didn't complete it. Confronting the complex intersections of race, sexuality, and HIV - of going beyond Madonna - lay even further ahead.
In the meantime, eleven-year-old me set about decoding the list of name-checked actresses ("Lauren, Katherine, Lana, too"). I took out all the VHS tapes from my local Video-To-Go and acquired a freakish knowledge of Classic Hollywood. That was work I could do with my brain.
I couldn't (yet) "go with the flow" or let my body "move to the music." Lived experience of sex, pleasure, infection and reinvention was still to come.
But if the music's pumping it will give you new life…
Eventually.